Lil Wayne Fighting His Syrup Addiction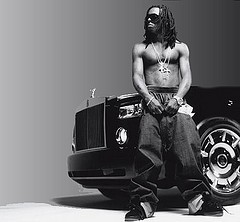 © Photo: MsMmichelle2284
The rapper talks about Suboxone and tapering off of codeine.
Lil Wayne, who has long battled an addiction to "lean" a mixture of codeine and promethazine containing cough syrup mixed with soda, has announced in a recent Vibe Magazine interview that he is taking steps to get his habit under control.
The rap artist admits to having gone to a doctor for help in breaking his dependency, and reported that he was given some pills to use as a substitute for the codeine – likely Suboxone.
Lil Wayne says that for now, he's just trying to taper himself off of the addictive opiate, and is having friends mix his drinks for him, having them gradually add lower doses of the medication over time.
The rapper, speaking to those that have condemned his drug abusing lifestyle, said, "Don't judge me until you meet me. And you know when you gonna meet me? Never. So don't judge me."
The narcotic cocktail of cough syrup and soda was a factor in the death of Pimp C, of the rap group UGK, and is a drink made popular by Wayne and other southern Rappers. The abuse of "syrup" is particularly widespread in Houston and other Texas cities.
Copyright Notice
We welcome republishing of our content on condition that you credit Choose Help and the respective authors. This article is licensed under a Creative Commons License.

Helpful Reading:
The difference between alcohol abuse and alcohol addiction (alcoholism), what puts you at risk of becoming an alcoholic and what to do once you've crossed that invisible line to addiction.

Read the complete article

Your partner's in recovery... now what? Tips on rebuilding a relationship while making your own needs a priority: building trust - one day at a time, setting measurable goals to work toward, taking care of yourself... rather than your partner.

Read the complete article