Full Page Ads in USA Today Feature Lindsay Lohan as the Unwitting Poster Woman for Drunken Driving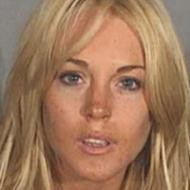 In an ad campaign against the use of alcohol interlock ignition devices, a mug shot of a disheveled Lohan represents how they (repeat DUI offenders) are different from us (adults who DUI after a family event or ball game).
Lindsay Lohan woke the other day up to see her DUI mug shot displayed as a full page USA Today spread. But not for another drunken lapse in judgment - this time, she's an unwitting participant in the American Beverage Institute's advertising campaign against alcohol ignition interlock devices.
The ad shows a full page picture of Lohan's DUI arrest picture, with the caption – "Ignition interlocks. A good idea for" (The Lohan picture is contrasted by a serious of smaller pictures of adults drinking at weddings and sporting events, with the contrasting caption, "But a bad idea for us").
The ABI, which is an alcohol lobby organization, has been campaigning against legislation that might require first time DUI offenders to pay for and install alcohol ignition interlock devices in their cars. They say that such devices could mean, "An end to moderate and responsible drinking prior to driving."
The ads are supposed to portray the idea that while alcohol ignition interlock devices may make sense for repeat DUI offenders (like Lohan) that most adults do not need such a device.
Lohan's lawyer, Blair Berk explained that his client fully supported the concept of alcohol interlock devices - and on a personal note - he ranted that "USA Today is idiotic to run such an irresponsible advertisement suggesting that drinking and driving is some kind of American 'tradition' we should protect. Not identifying that this ad was paid for by the liquor and restaurant industries is profoundly reckless… Drunk white businessmen, drunk housewives out for girls night out and drunk wedding parties should be kept off the roads of America."
Sarah Longwell, managing director of the ABI explained that the Lohan ads were only the first in a serious that would feature other notorious repeat DUI offenders. She countered that, "We needed to create the distinction for the public what someone with multiple DUIs looked like versus a low blood-alcohol-level first-time offender."
Copyright Notice
We welcome republishing of our content on condition that you credit Choose Help and the respective authors. This article is licensed under a Creative Commons License.

Helpful Reading:
Answers to your basic questions about getting into a treatment program rather then sent to a jail cell. How it works, why it works and where to find court approved treatment.

Read the complete article