German National Team Goalkeeper Robert Enke Commits Suicide at 32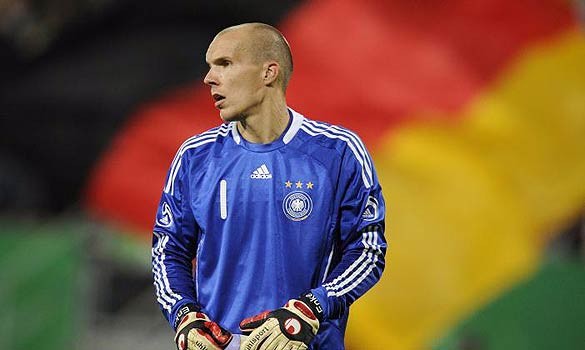 © John Macdougall/AFP/Getty Images
Robert Enke, 32, the man who was to defend Germany's chances in net at next year's World Cup, committed suicide last night; stepping in front of a speeding train to end a life plagued by severe depression.
German fans are mourning the loss Robert Enke, who committed suicide on Tuesday after a prolonged battle with depression.
Enke had played with the German club team Hannover for the past 5 years and had previously played with Barcelona. He was voted Germany's goalkeeper of the year at the end of last season.
Enke had suffered through intense depression for years, first seeking treatment while at Barcelona in 2003, after losing his starting job and developing anxiety about performance and failure. Then in 2006, Enke lost his 2 year old daughter to a fatal heart defect. A lengthy illness this fall left him deeply depressed again and he had been receiving daily treatments for his depression in the period leading up to his death. In his suicide note, Enke apologized to his family and to his treatment team for misleading them about the severity of his symptoms - pretending he was improving so that he could go through with his suicide plans.
Enke and his wife Teresa adopted an eight month old baby girl this May. Teresa spoke at a news conference about her husband's depression, tearing up as she said, "I tried to be there for him. When he was acutely depressive, it was a difficult time. We thought we'd manage everything. We thought with love, we could do it. But you can't."
Hundreds of fans swelled the ranks at a memorial service Wednesday evening led by Bishop Margot Kaessmann, who commented on the tragedy of an early death of a man who seemed to have it all, but who struggled so deeply inside, saying, "The death of this athlete shows that soccer is not everything in our life. Behind popularity and success there could be profound loneliness and desperation."
The German national team canceled an exhibition match against Chile that had been scheduled for Saturday. Joachim Loew, the German coach, said the team couldn't go on as usual this week, and that "We lost a friend. We deeply mourn Robert Enke."
Enke's funeral services are scheduled for Sunday morning in Neustadt, outside of Hannover.
Copyright Notice
We welcome republishing of our content on condition that you credit Choose Help and the respective authors. This article is licensed under a Creative Commons License.

Helpful Reading:
How Mindfulness can overcome depression, teach us how to ignore unwanted thoughts and help us choose what is healthy for ourselves.

Read the complete article

Imbalanced gut bacteria may increase your risk of anxiety, depression, obesity and a host of other diseases. Learn how digestive bacteria can cause anxiety and find out how dietary changes can help you instill or protect an optimal balance of beneficial bacteria.

Read the complete article