Government Employees In OxyContin Scam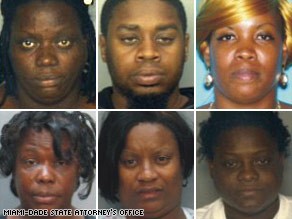 © The alleged recruiters are (clockwise): Janice Currington; Dwonvalyn Johnson; Barbara Miller Benaby; Guyton Wynell; Marcella Pierce; and Wanda McNeal
Miami police arrested 56 government employees yesterday, on charges relating to a grand-scale insurance fraud to obtain prescriptions for the highly addictive painkiller OxyContin.
OxyContin is a frequently abused prescription drug that delivers an instant high when ingested.
An estimated 130 fraudulent prescriptions were used to obtain more than 12,000 tablets of OxyContin, with a street value of $400,000. According to prosecutors the illegal operation began in 2003, when employees of local government were recruited by 6 initial members to provide their health insurance information. With that information they obtained medically unnecessary prescriptions for OxyContin from a physician who has also been arrested.
The defendants include two corrections officers, a felony court clerk, a police officer, and 27 school bus drivers and attendants, according to the Miami-Dade state attorney's office. They all face charges including racketeering, conspiracy to commit racketeering and grand theft.
Copyright Notice
We welcome republishing of our content on condition that you credit Choose Help and the respective authors. This article is licensed under a Creative Commons License.

Helpful Reading:
Treatment with Suboxone occurs in three phases, the induction, stabilization and maintenance phases. Learn what happens in each phase and how long it takes to move through these stages of care.

Read the complete article

Thinking about using methadone but worried about the side effects? Well, firstly, know that while there are some side effects associated with the drug, it is a very well tolerated medication and most people find the side effects to be very manageable. Secondly, a lot of misinformation surrounds methadone, so some of what you may have heard may be untrue. Learn more about the side effects of methadone and learn if it might be a form of addiction treatment that will work for you.

Read the complete article