Drunken Santa Claus Arrested While Looking for Reindeer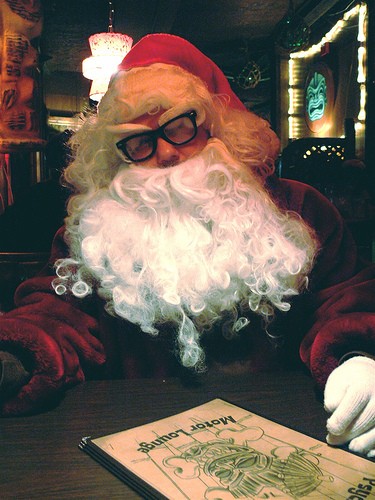 © Photo Credit: Chuckumentary
A bumbling man in a Santa suit approached and hugged a group of children in Wisconsin, wanting to know where his reindeer were. Santa got cited for alcohol but the children say they knew he wasn't the real Santa, because "Santa doesn't drink alcohol".
Tina Reinhart of Sparta Wisconsin called the police on Sunday after a man dressed in a Santa suit stumbled into her yard, hugged her children and asked them repeatedly if they knew where his reindeer were.
Police soon spotted Santa, actually, 55 year old Thomas Arnold, cruising around town in the passenger seat of a car driven by a Mr. Kevin Arnold.
Thomas Arnold was charged with the possession of an open can of beer in a vehicle and Kevin Arnold was charged with impaired driving.
Police say that the pair were returning from a Christmas party and didn't mean any real harm. Sparta Police Chief, Mike Kass, said, He thought he was spreading good cheer and in some lights he may have been. I don't think Mr Arnold had any ill intent — I believe his level of intoxication probably impaired his judgment.
Katie Dockerty, 9 one of the children Arnold approached, said she wasn't fooled by his Santa costume, reporting that "He smelled like alcohol. So I knew it wasn't the real Santa because Santa doesn't drink alcohol."
Copyright Notice
We welcome republishing of our content on condition that you credit Choose Help and the respective authors. This article is licensed under a Creative Commons License.

Helpful Reading:
The difference between alcohol abuse and alcohol addiction (alcoholism), what puts you at risk of becoming an alcoholic and what to do once you've crossed that invisible line to addiction.

Read the complete article

Here are 2 facts about alcoholism: It tends to get worse over time (it is progressive) and most people experience a fairly similar progression of symptoms and consequences. Here is a timeline which charts the progressive experiences of alcoholism through the early, middle and late stages. If you have a drinking problem, find out where you fall on the timeline and consider what's coming in the future.

Read the complete article