Critics Blast Mike's Hard Lemonade for Breast Cancer Awareness Promotion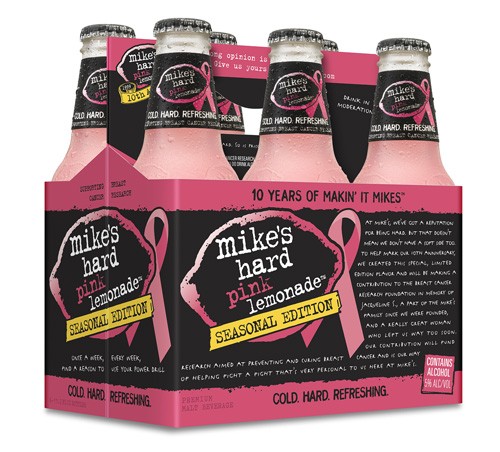 Mike's Hard Lemonade and Chamborg liqueur are 2 big name alcohol makers who've attached their marketing message to a promotion for breast cancer research – but since even moderate alcohol consumption is proven to increase a woman's risk of breast cancer, many are questioning the appropriateness, and even the sincerity, of the informal partnership.
October is breast cancer awareness month. You can now buy a Mike's hard lemonade in pink and on the package you're told that your purchase helps to support breast cancer research - and the Chamborg liqueur marketing team urges you, "to pink the drink" saying that by adding a splash of Chamborg to any cocktail you make you help to support year round breast cancer research funding.
Since alcohol consumption is a proven cause of breast cancer, many cancer survivors and breast cancer advocates are angry that big-alcohol is using cancer to sell ever more of what causes it.
Is this good corporate citizenship or a very inappropriate leaching onto a good-will cause to boost sales?
Mikes Hard Lemonade CEO Phil O'Neil says their breast cancer donations are made in honor of an employee named Jacqueline who died after a year long fight with the disease. In a statement, O'Neil attempted to refute critics by saying, "The donations we make to breast cancer research are not tied to sales; they are our way of honoring Jacqueline," The company has so far donated a half million dollars the cause.
Not everyone, however, is sold on the good-will message. Dwight Burlingame, of the Center on Philanthropy at Indiana University argues that far from philanthropic intent, that, "These businesses are promoting their product."

Barbara Brenner, the executive director of the advocacy group, Breast Cancer Awareness agreed, and summed up the distaste of many observing this ill advised partnership, saying, "Anybody trying to sell alcohol to promote breast cancer awareness should be ashamed of themselves"
Copyright Notice
We welcome republishing of our content on condition that you credit Choose Help and the respective authors. This article is licensed under a Creative Commons License.