New York State Police Monitoring Facebook Pages to Sniff Out Post Prom Parties.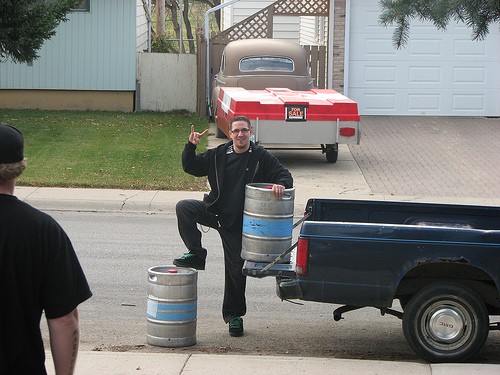 © Photo: Stephen Glauser
Police in Greenburgh New York are spending a few hours a week browsing across the Facebook pages of area teens, hoping to catch wind of parties and underage drinking.
Police are on the lookout for post prom and grad parties, and they stay informed the same way a lot of teens do – with online social networking.
Sgt. Harold Young, commander of the Greenburgh New York Drug and Alcohol Task Force, says that although police are always on the lookout for underage drinking, prom season is definitely the busiest time of year. He says that he and his fellow officers stay abreast of what's brewing by spending a few hours a few times a week surfing the net and combing public social networking pages on sites like Facebook.
They say that kids will often publicize upcoming events on public pages, and when they do, police can monitor and intervene if necessary. Police often surf upon pictures of teens drinking, and although there is little they can do after the fact, they will take notice and watch certain people and places more closely in the future. Describing what they sometimes find online, Young says, "On Facebook, we've had photos of kids holding other kids (upside down) and drinking from a keg."
Police surveillance of online profiles remains a controversial and very much disliked activity by high school age teens. One very notable protest response came from teen in Wisconsin, who advertised a keg party online in March - and surprised police when they arrived with kegs full of root beer.
Officer Young says that they monitor teen activities only to stop these kids from getting hurt or getting drunk and behind the wheel of a car.
The next few weeks will likely continue to be busy for the small police task force, who make about half of all their annual underage drinking arrests during the weeks around high school graduation.
Copyright Notice
We welcome republishing of our content on condition that you credit Choose Help and the respective authors. This article is licensed under a Creative Commons License.

Helpful Reading:
If you prepare yourself for high-risk situations and learn strategies to prevent relapse you have a great chance of being able to quit on your own – learn how to succeed here.

Read the complete article

Smoke marijuana? Got 2 minutes to spare for a self test? If so, answer yes or no to 12 questions to make sure you don't have a marijuana problem.

Read the complete article