Adult Video Gamers Are Heavier, More Introverted and More Likely Depressed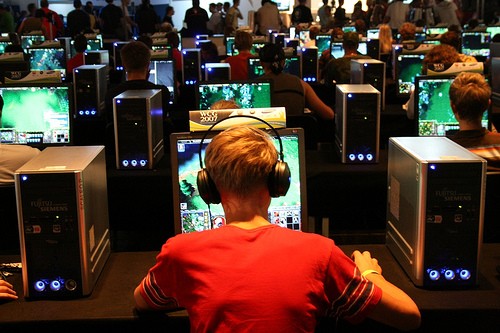 © Photo Credit: Wlodi
Researchers at the CDC conducted a snapshot study of American adult video gamers, and found that on average, video game players have higher BMI scores, women gamers are more likely depressed and all gamers (on average) rely on the internet for social support at the expense of real world sociability.
Video gamers may be older than you think. While teens still spend a lot of time engaged in video game play, researchers at the Center for Disease Control (CDC) and Emory University say that the average American adult video gamer is actually 35 years old; and if that gamer is a man, he's likely overweight - if it's a she, she may well be depressed.
The CDC and Emory University researchers wanted to evaluate the impact of media on health, behaviors and general well being. They chose to evaluate people in the Seattle Tacoma area, due to its high level of average internet usage. The researchers surveyed 552 adults, aged 19 to 90 and asked about:
Signs of depression
Personality characteristics
Weight and body mass
Quality of life variables
Time spent each week watching TV or videos, playing video games or using the internet
Physical health
Mental health
They found that just under half of the 552 adults randomly surveyed were video game players, 45%. Men were more likely than women to report playing video games. Men who played video games reported a higher body mass index score (BMI) than men who did not play. Women who played video games scored higher on indices of depression than women who did not. All video gamers, on average, scored lower on extroversion scores (and by association, probably lower on measures of sociability and assertiveness) and both male and female video gamers reported getting more social support via the web.
Past research has shown that heavy game players will often substitute game play for real world social interaction, by choice.
The researchers suggest that male adult gamers are likely people that have grown up through their teens and adult years engaging in sedentary game playing behaviors and that now show the higher body mass associated with a sedentary adult life style.
The authors speculate that since women gamers score higher than average on indices of depression but not BMI, females game players may use video games as "self medication" for their depressive symptoms.
The study researchers caution that their study is only correlational; they cannot say whether video game play in any way causes higher BMI scores in men and depressive symptoms in women, only that these traits are more commonly seen amongst the game playing population.
Dr. James Weaver III of the CDC, a lead researcher in the study, reported that the results taken from an adult population, "appear consistent with earlier research on adolescents that linked video game playing to a sedentary lifestyle and overweight status and mental health concerns." He says that their study did not attempt to find the good and bad in video game playing, only to, "see better how adults play video games."
The full study details will be published in the October issue of the Journal of Preventative Medicine
Copyright Notice
We welcome republishing of our content on condition that you credit Choose Help and the respective authors. This article is licensed under a Creative Commons License.

Helpful Reading:
How Mindfulness can overcome depression, teach us how to ignore unwanted thoughts and help us choose what is healthy for ourselves.

Read the complete article

Imbalanced gut bacteria may increase your risk of anxiety, depression, obesity and a host of other diseases. Learn how digestive bacteria can cause anxiety and find out how dietary changes can help you instill or protect an optimal balance of beneficial bacteria.

Read the complete article