Babyshambles Singer Pete Doherty Arrested after Using Heroin on an Airplane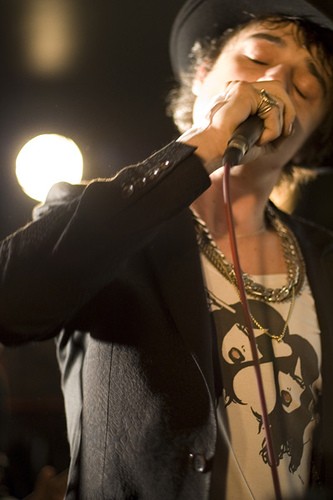 © Photo Credit: Dale Harvey
Pete Doherty locked the door and he wouldn't come out. After 25 minutes of pleading and only minutes before landing, cabin crew convinced the singer to open up – finding within the tight confines of the airplane restroom a very intoxicated singer, and a used syringe.
British rocker Pete Doherty performed his scheduled concert in Switzerland on Friday night, but only after spending some quality time with Swiss police officers and only after recovering from a shot of in-flight heroin that fellow passengers say, left him dazed and intoxicated.
During the 1 hour 40 minute flight from London to Geneva, Doherty spent so long in the bathroom that cabin crew spent the better part of 25 minutes coaxing the Babyshambles singer to come out. After eventually unlocking the door, a couple of crew members helped the singer to his seat and passengers report seeing another crew member coming out of Doherty's bathroom carrying a syringe wrapped in toilet paper.
Doherty was returned to his seat just minutes prior to the flight's landing in Geneva.
Doherty, once very famously involved with supermodel Kate Moss, is no stranger to headlines and quite accustomed to media reports of his drug problems. Once addicted to crack cocaine and heroin, the singer spent 29 days in a London jail last year for a probation violation that saw him caught with a medley of substances that included ketamine, crack cocaine, heroin and marijuana.
Since a stay in rehab this year, the singer has sworn himself, "clean as a whistle."
British Airways, the carrier, refused to comment on the specifics but did confirm that Doherty was charged with an unnamed crime after the flight's arrival in Geneva. A spokesperson for the Geneva police, Jean Philippe Brandt, confirmed the incident, saying, "We were contacted by the captain of a BA flight and a passenger was controlled by police."
Brandt would not say how much the fine was that Doherty paid for his sky-high high, but did confirm that the singer had been drug tested for heroin while in custody.
Copyright Notice
We welcome republishing of our content on condition that you credit Choose Help and the respective authors. This article is licensed under a Creative Commons License.

Helpful Reading:
Withdrawal symptoms don't tell the whole story. Learn why persistent cravings make heroin so tough to quit.

Read the complete article

Here are 50+ heroin harm reduction tips... because anything that prevents overdose and keeps you alive and healthy increases the odds of finding eventual lasting recovery.

Read the complete article