ND Surgeon Attempts Operation With An Astounding 0.35 Blood Alcohol Content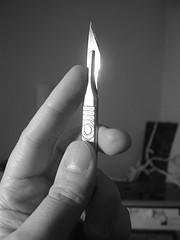 © Photo: Aesop
Hospital staff noticed Dr William Yvorchuk's intoxication as he was about to start his third operation of the day.
William Yvorchuk walked into an operating room earlier this month ready to perform his third surgery of the day – his blood alcohol level at that time was 0.35; more than 4 times the legal limit for intoxication.
Although hospital staff noticed his bizarre behavior and seeming intoxication, and stopped him from performing the scheduled procedure, he had already operated twice that day, only hours before being tested with such an extremely high blood alcohol content.
Hospital administrators, on learning of his intoxication, immediately revoked his hospital privileges, and reported the incident to the North Dakota Medical Board. His license to practice medicine in the state, a license he has had since 2004, has been temporarily revoked pending a full review of the incident. A full hearing before the medical board is scheduled for April the 9th, at which point the suspended doctor risks losing his license to practice medicine permanently.
Commenting on the temporary suspension, medical board Spokesperson Duane Houdek said, "Dr. Yvorchuk's conduct creates a significant risk of serious and ongoing harm to the public."
The suspended surgeon has closed down his offices and could not be reached for comment. Dr Ahmed Abdullah, a surgeon who worked in the same facility, explained that although Dr. Yvorchuk worked in the hospital, he merely rented space there, and was not on staff. Still, Dr. Abdullah said that "he was saddened by Yvorchuck's situation and would not comment further out of respect for his privacy."
Copyright Notice
We welcome republishing of our content on condition that you credit Choose Help and the respective authors. This article is licensed under a Creative Commons License.

Helpful Reading:
Doctors now caution anyone due for scheduled surgery to limit, or eliminate, alcohol consumption prior to a procedure.

Read the complete article

An expert in pain management from the College of Pharmacy at Oregon State University says that millions of Americans are living in pain because doctors are afraid to prescribe sufficient pain killers.

Read the complete article